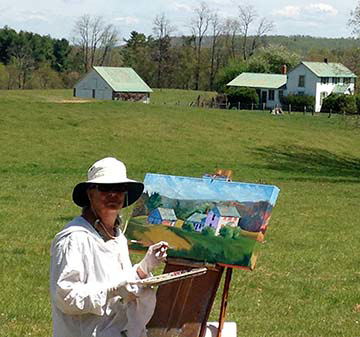 I feel I was lucky to be born into a family of artists and began my own journey as an artist as soon as I was able to hold crayons and paint brushes.  I grew up in Fort Lauderdale and have been coming to the Florida Keys since the mid 1950s. 
After getting married I moved to the mountains of New Hampshire, then back to my beautiful Keys with my husband to raise our children.  I now split my time between the Blue Ridge Mountains of Virginia and Islamorada, Florida.
I attended Ft. Lauderdale Art Institute and have studied with Don Andrews, John Lyons and Johannes H. Vloothuis along with other talented artists and mentors. I have attended and taught numerous workshops over the years. I have been teaching art for more than 30 years to students from preschool to senior citizens.  I was also one of the founding members of Floyd Artists Association, an artist's co-op in Floyd, Va.
I believe that there is an artist locked up in everyone.  If someone has the desire to draw or paint they just need the opportunity, inspiration and guidance to set that part of themselves free.  I am proud to say I have set free that artistic talent in many students young and old over the years.  I believe it is most important to relax, enjoy the process, practice and let the rest work itself out .
The goal of a painting is to evoke emotion in the viewer. I paint landscapes, portraits, seascapes and dreamscapes in oils both in mountain and seaside settings.   
I see life as art and art as life. They flow back and forth between each other like a swirling pool of light and color in my waking hours and in my dreams. No matter where I have been during my life I have always been my art and my art has always been me. My paintings are truly a piece of my soul.